TOOT TOOT!
ME AND MY PUSSY

ST*R

WRITING LYRICS... HITS... TRACKS.... AND STUFFS.... GETTING THERE.... LIKING WHAT WE ARE COMING UP WITH...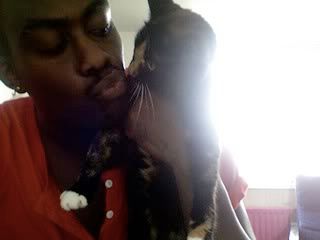 I TOLD HER SHE NEEDS TO START PULLING HER WEIGHT... SHE DIDNT WANT TO DO THE DISHES CAUSE SHE DOESNT LIKE WATER..... SHE DOESNT DO ANY CLEANING HERE IN WONDERLAND?!?!!?!? BUT SHE STILL EXPECTS TO BE FED THE FINEST ORGANIC PUSS FOOD....WHICH COSTS £££££££ NOT BUTTONS....
SO SHE SAID SHE WILL WRITE WITH ME AND I SHOULD USE HER SHARE OF THE PUBLISHING ON HER UP KEEP AND AS HER HALF OF THE RENT....

THIS IS A MESSAGE TO ALL PARENTS... TEACH YOUR KIDS/CATS/DOGS (there all the same thing) ABOUT RESPONSIBLITY AND THE VALUE OF MONEY.

*sidenote*

if you sit down and listen to fucking r&b
love songs about breaking up and all that shit you
ARE
going to end up being
DEPRESSED
. If you have been and are depressed......... watch this without delay.....counter act against that negative energy.....!!!!



MAG!C & LiGHT
KEEP SMILING.......
THE SUPERST*R